Pail Pumps
In partnership with Fluid Research®, a manufacturer of metering, mixing, and dispensing systems, we offer a line of pail pumps that are designed with piston pump technology. Piston pumps utilize single-acting reciprocating pistons that provide a consistent and accurate dispensing flow for fluids with various viscosity. Examples of common dispensing fluids include, silicones, polyurethanes, acrylics, pastes, potting and encapsulation compounds.
These machines are available in analog or digital control options and can be customized with optional features to fit your unique application needs.
To learn more about pail pumps or other piston pump systems visit Fluid Research® at www.fluidresearch.com/products/piston-pumps/.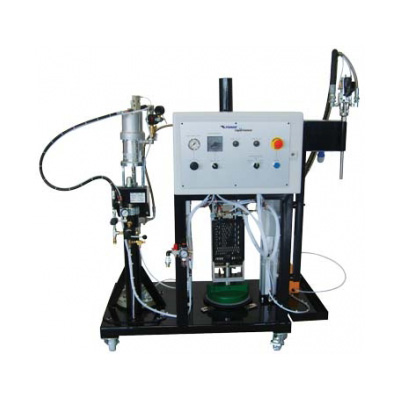 Models
LC50FR – Digital Dispense Metering & Mixing System
LC50PFR – Analog Dispense Metering & Mixing System
LC120FR – Digital Dispense Metering & Mixing System
LC120PFR – Analog Dispense Metering & Mixing System
FR300 & FR1200 – Fixed Analog & Digital Dispense Metering & Mixing System
DFR20 – Pail Pump 5 Gallon & 10 Liter Tank System or two 5 Gallon Pump Systems
DFR200 – Pail Pump 55 Gallon & 20 Liter Tank System Pail Pump or two 55 Gallon Pump Systems