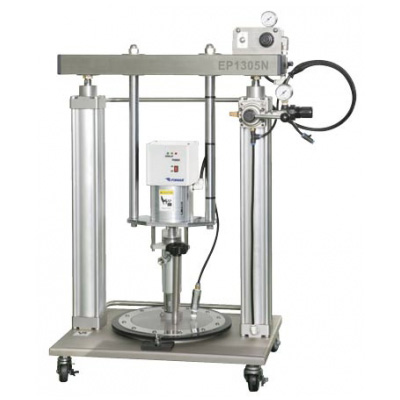 EP1305N Pail Extruder System
EP1305N Pail Extruder System
The EP1305N is designed for dispensing 5 gallon pails of medium to high viscosity fluid. Ideal for silicones and grease. Systems are rated at 15:1 and provide a maximum of 996 psi regulated material pressure.
The extruder pump body is fitted with a follower plate that seals and follows the material as the level drops to wipe the sides of the pail clean, limiting waste. The fluid is pressure-fed by reinforced hoses to a valve that is actuated by a valve controller.
The EP1305 utilizes a low-pulse pump design suitable for automatic production dispensing applications, when used with a fluid regulator. These applications require a constant supply of air-free material. Air bubbles and material voids, caused by handling or decanting high viscosity fluids, are prevented. Supplied standard with 20 kg follower plate.

Request a QuoteRequest a Quote