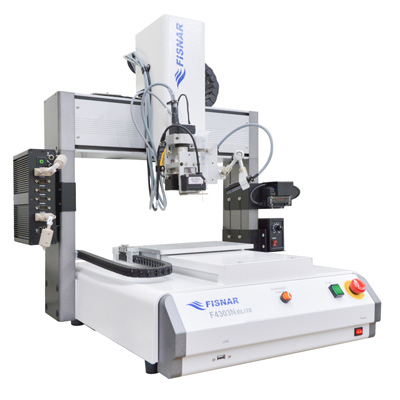 F4303N ELITE 3-Axis Robot
F4000 ELITE Series 3-Axis Benchtop Robot
Fisnar F4000 ELITE 3-axis benchtop robots are designed to offer the highest level of precise automated fluid placement and positioning.
The CCD camera vision system and laser height sensor allow the system to automatically adjust for changes in part position/orientation and height*.
Specifically built for fluid dispensing processes, the F4000 ELITE proprietary robot vision software is user friendly and enables the set-up and running of complex dispensing routines to be created easily.
The additional auxiliary camera allows for realtime viewing, image capturing, and recording of the dispense path.
Additional functionality features CAD import and an offline measuring tool to further improve the user's control of the dispensing process.
The F4000 ELITE can be supplied individually or as a complete stand-alone machine by integrating into a safety enclosure.
*Laser height sensor included with -IL and -LK models only.
Request a Quote
Request a Quote