Syringe Barrel Adapters & Accessories
Fisnar QuantX™ Syringe Barrel Adapters & Accessories provide a convenient quick connect to the controller from the syringe barrel. Tubes, safety clips, fluid filter traps, and o-rings also available.

Download 2D Drawings & 3D Models


QuantX™ Syringe Barrel Adapters with 1/8″ Hose
Syringe barrel adapter assemblies connect a syringe to a time/pressure controller.  The 1/8″ barrel adapter comes with a green adapter head and a safety clip.

ESD Safe Adapter Assemblies

QuantX™ Adapters With O-Ring, No Hose

O-Rings For QuantX™ Adapter
Replacement O-rings for syringe barrel adapters in Buna N and Viton®.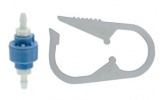 QuantX™ Tubing, Safety Clips, Fluid Filter Traps
Filter traps and safety clips are indispensable accessories for low viscosity fluids.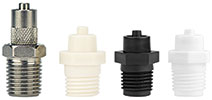 Cartridge Tip Adapters
Allows for the use of QuantX™ dispense tips with luer lock hubs. 1/4" NPT tip adapters for use with cartridges and valves fitted with 1/4" NPT female threads.

Adjustable Barrel Finger Switches
Designed for operators who prefer finger switches to foot pedals. Easy to adjust and can be fitted to cartridges and retainers. Compatible with SL101N-style and DC-style controllers.