Syringe Barrel Adapters & Accessories
Fisnar QuantX™ Syringe Barrel Adapters & Accessories provide a convenient quick connect to the controller from the syringe barrel. Tubes, safety clips, fluid filter traps, and o-rings also available.

QuantX™ Syringe Barrel Adapters with 1/8″ Hose
Syringe barrel adapter assemblies connect a syringe to a time/pressure controller.  The 1/8″ barrel adapter comes with a green adapter head and a safety clip.

QuantX™ Adapters With O-Ring, No Hose

O-Rings For QuantX™ Adapter
Replacement O-rings for syringe barrel adapters in Buna N.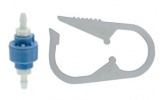 QuantX™ Tubing, Safety Clips, Fluid Filter Traps
Filter traps and safety clips are indispensable accessories for low viscosity fluids.
*Ellsworth Adhesives is a trusted distributor of Fisnar dispensing equipment and supplies as well as specialty chemicals from the industry's top manufacturers.