Cartridge Accessories
Fisnar offers a full line of cartridge accessories including plungers, caps, connecting hoses, and adjustable finger switches for SL101N-style and DC-style controllers.

Cartridge Plungers
The plungers wipe clean design maximizes fluid usage from within the cartridge. Plungers are available in low or high-density polyethylene and come in a variety of sizes to fit compatible cartridges.

Cartridge Caps
End and tip caps are designed to seal out air for proper storage and handling purposes. Available in snap on, push on, and threaded styles.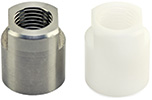 Cartridge Adapter Nuts
Used for converting the male thread on a 310 ml (1/10th gallon) cartridge to a 1/4" NPT female thread. 1/4" NPT nozzles, tip adapters, or fittings can be connected to allow material dispensing directly from the cartridge.

Adjustable Cartridge/Retainer Finger Switches
Designed for operators who prefer finger switches to foot pedals. Easy to adjust and can be fitted to cartridges and retainers. Compatible with SL101N-style controllers.