Cartridge Retainers
Fisnar Cartridge Retainers assist in dispensing a wide range of materials. A popular prepackaged dispensing cartridge is 300ml and can be dispensed directly using a cartridge retainer and cap as shown.
Another dispensing cartridge is the package that can be supplied empty for filling. These are used for dispensing higher volumes of liquid and are sized in fluid ounces. They are often used for high viscosity fluid such as silicone and grease and will require higher fluid pressure. For this reason, metal cartridge retainers are also offered.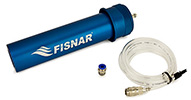 1/10 gal Cartridge Retainers with Caps
The 1/10 Gal. cartridge retainers are made to fit both Fisnar brand cartridges and standard caulking cartridges.

Retainer Caps
Retainer caps provide a secure lock of the cartridge and metal retainer. Supplied with a female quick connect and sealing ring. One Size fits 2.5 – 12 oz. retainers.

Connecting Hoses
A 5ft (152cm) hose to connect a retainer cap and dispenser. Includes a male quick connect each end.

Adjustable Cartridge/Retainer Finger Switches
Designed for operators who prefer finger switches to foot pedals. Easy to adjust and can be fitted to cartridges and retainers.
*Ellsworth Adhesives is a trusted distributor of Fisnar dispensing equipment and supplies as well as specialty chemicals from the industry's top manufacturers.